BEACH VOLLEYBALL TRAINING GROUPS IN AUTUMN 2019
If you want to practice beach volleyball regularly and have attended our basic course or have equivalent knowledge, we offer you level-divided training groups at The Beach in Södertälje, south of Stockholm. Aside from being a very social and fun sport, training beach volleyball in a training group is without a doubt the best way to evolve as a player.
All our training groups are divided in different levels and are offered to anyone who has previously attended our beginners' course or have equivalent knowledge and technique. Aside from good training we also offer you a break from your everyday life and a boost of energy from our nice facility and an amazing sport. At The Beach everyone is welcome!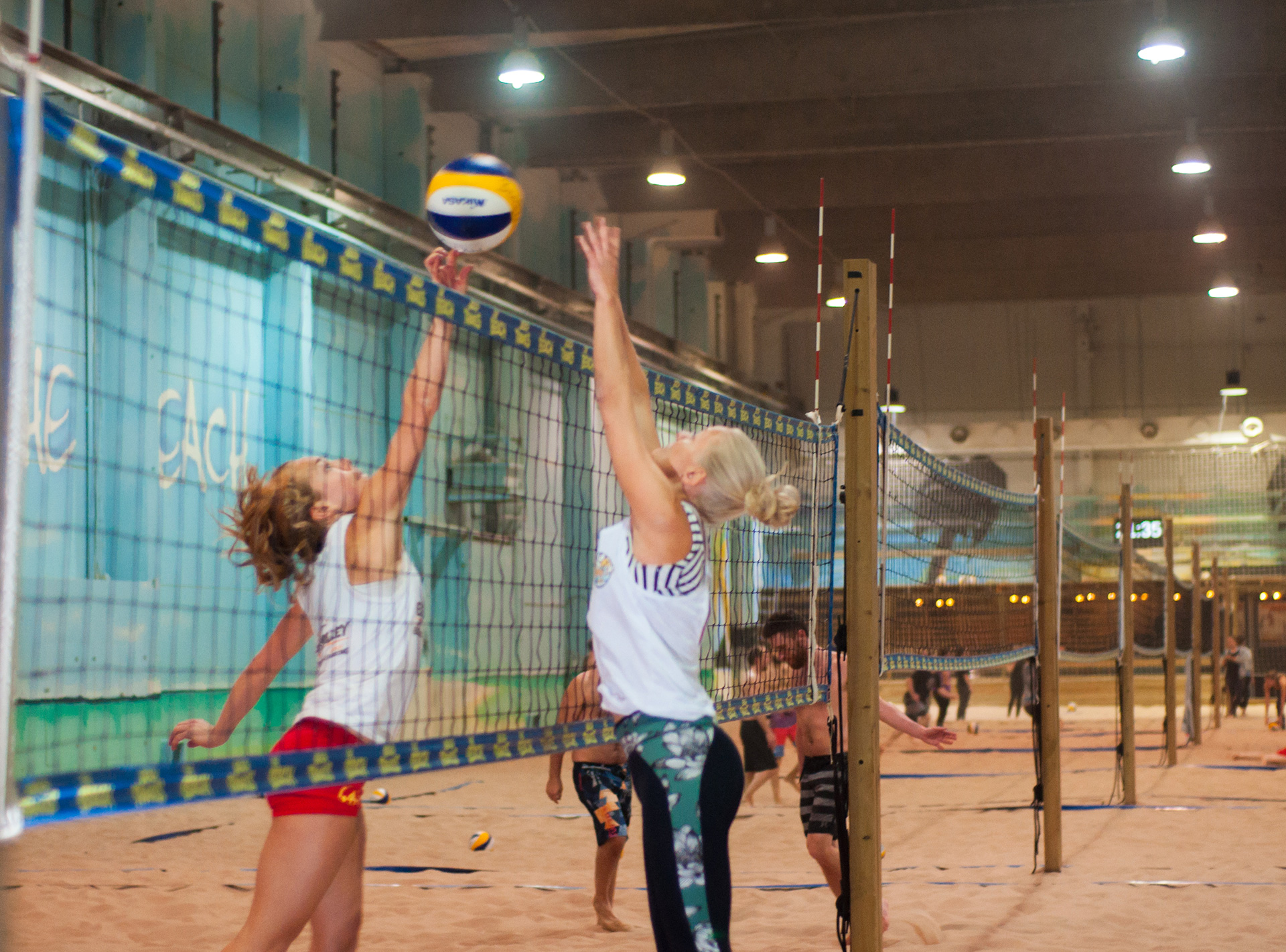 QUALITY TRAINING
Our ambition is to quickly develop all training group participants skills with coaching by Sweden's best coaches. There are max 8 players per court and max 12 players per coach.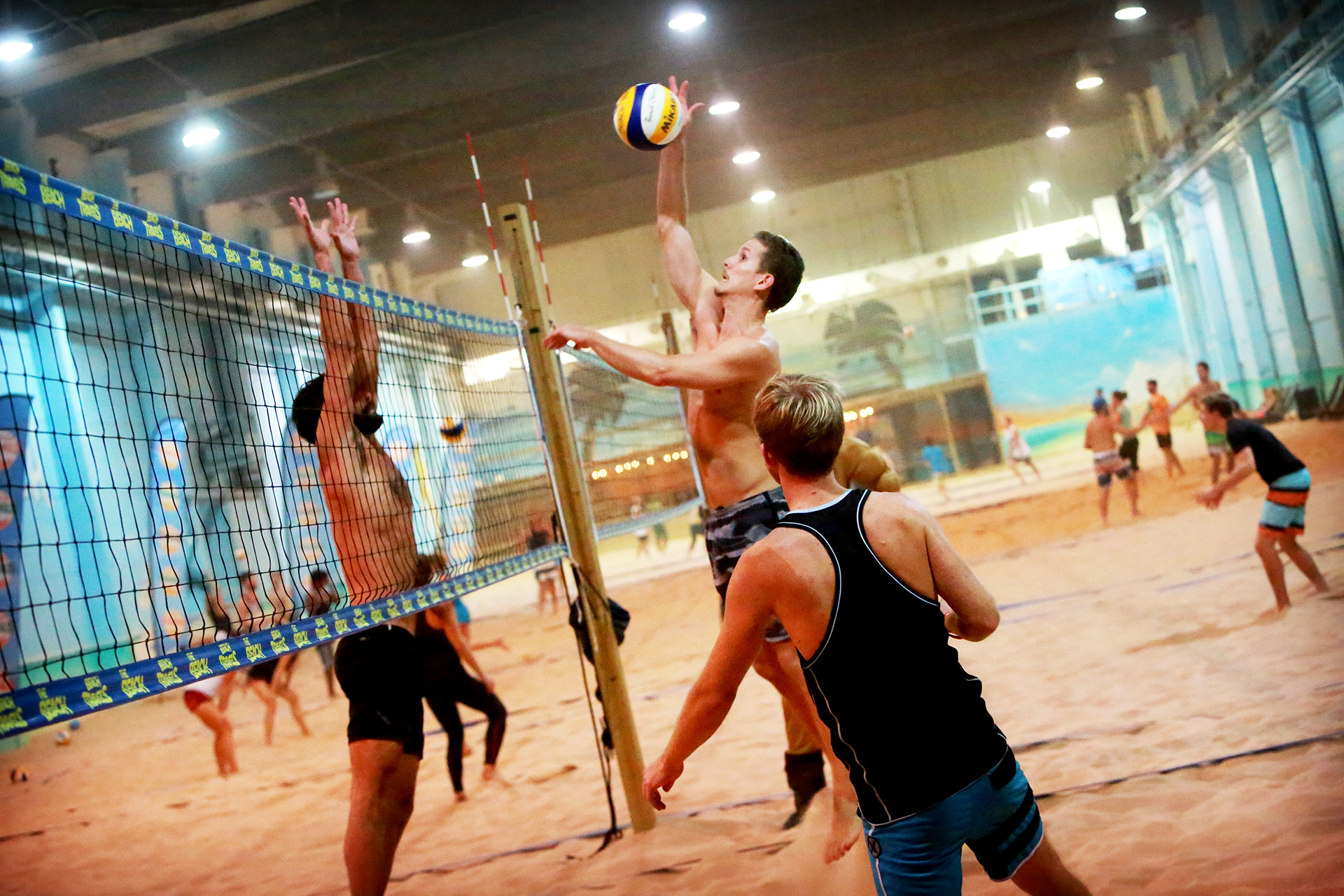 Many of our coaches have several Swedish Championship titles and has represented Sweden at international tournaments and are still actively competing. Some have continued on as coaches after their own beach volleyball career and can now title themselves as coaches for the Swedish national team and has coached at both European Championship and World Championship.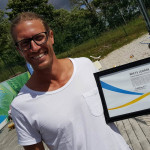 All of our coaches are trained and developed continuously, mainly by our Sports Director Mattias Magnusson, who in 2018 was appointed to The Leader of the Year by the Swedish Beach Volleyball Association
REGISTRATION PROCESS
We divide the groups depending on the player level of registered participants and what info has been submitted in the registration. We also take into consideration how we can organise coaches and courts in the best way possible.
The decision on how the groups are split is based on a ranking made by Andreas Berggren and Mattias Magnusson in close contact with coaches for each group. This means we have a pretty good idea of your level if you have played in a training group at The Beach previously but would still appreciate you filling out the registration thoroughly. It is even more important to describe your level for those of you who hasn't been in a training group at The Beach.
INFORMATION AUTUMN 2019
Bonus! Two chances to play for free (your part of the court rental) for those that pays the invoice in time with correct OCR-number!
There are 13 training sessions in the autumn where 12 are regular training groups and one occasion is Gameday (can be changed to 13regular trainings)!
Start Mondays September 2nd
Start Wednesday, September 4th
Start Sunday, September 8th
Planned break for the autumn training trip with BeachTravels to Sperlonga, Italy, 5/10 – 12/10, (Canceled training Sunday 6/10, Monday 7/10, Wednesday 9/10).
Costs from 2395:- up to 3495:- depending on which day and time you end up (less popular training times are cheaper).
Mondays 17.30 – 19.00 3195: –
Mondays 19.00 – 20.30 3495: –
Mondays 20.30 – 22.00 2795: –
Wednesdays 19.00 – 20.30 3495: –
Wednesdays 20.30 – 22.00 2795: –
Sundays 12.00 2395: –
Sundays sometime between 13.30 – 20.00 for 3195: –
Träningsgrupper på hög spelnivå tränar på söndagar med starttid någon gång mellan 13.30 – 20.00. Övriga träningsgrupper tränar antingen på måndagar 17.30 – 19.00, 19.00 – 20.30, 20.30 – 22.00,  onsdagar 19.00 – 20.30 eller 20.30 – 22.00 eller söndagar 12.00 – 13.30.
You will not be placed in a training group with higher level than you based on your wishes, however you can be placed in a lower level, if you for example wish to train with a friend who has lower beach volleyball skills than you, you will be placed in the lower level suitable for the both of you. We aim for max 8 players per court and 12 players per coach. So be specific in wishes and demands in your registration! IF you write demands we cannot meet we will not put you in any training group.
Payment through invoice will be sent to registered email. Note that the invoice is issued by Billogram and is sent to you once we have put you in training group. Additional costs may occur for paper invoice (if you do not mark that you have received the invoice by email), and at late payment for interest etc.
We reserve the right to refer participants to the beginners or continuance course if we assess it necessary. We stand for our subjective assessment
Registration is binding.
Questions regarding our training groups and additions to your submitted registration, please send to traning@beachvolley.se
CHANGES AND INFO
Changes can occur. Info will be communicated in the Facebook group setup for all participants who got a spot in a training group and can also be mailed. Make sure to use your an email you read when signing up.
REGISTRATION INFO
We put in a lot of effort and hard work in creating as equal and good level training groups as possible. Therefor we appreciate you giving us as clear and short answers to all questions, so take your time reading them.
If you have not played at The Beach before, but have played elsewhere, it helps us if compare your level to training friends or team mates etc even if it is in another city. We have contacts all over that helps us rank newcomers.
CANCELLATION POLICY
PAYMENT AND CONTRACT
An invoice is sent via email after the training groups has started. We choose not to send the invoice at the very start of the semester in order for us to adjust any price changes due to that we have different fees for different day/time. As well as any demands put in the registration for it to be valid. However, you are still obligated to pay even though we send invoice later,
read more here.
TIPS FROM THE COACH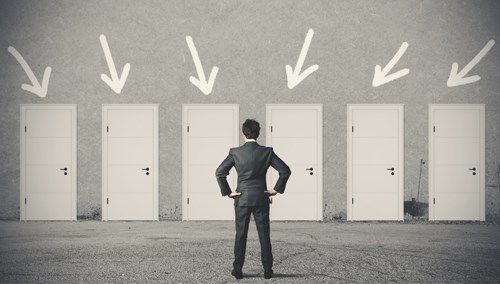 The more option you keep open, the easier it is for us to place you in a training group.
 REGISTRATION IS DIVIDED INTO 4 PARTS
Personal information
Description of you as a beach volleyball player
Your choices of day/time and specific wishes/requests
Your declaration of payment and acknowledgement that you have understood our rules for cancellation of registration
When finished you will be presented with a summary of your registration and a confirmation of your registration will be sent to your provided email address. If you do not receive any confirmation email we ask you to check your spam. Any questions regarding your registration or training groups please send to traning@beachvolley.se
REGISTRATION OPEN THURSDAY, AUGUST 1, 20.00
Do you want to receive an e-mail when the registration opens so you do not miss? Make an application for interest here.
We have also created a Facebook event that reminds you! Join!